I realized I forgot to post my four animals pattern, which uses traditional Japanese motifs (and one art deco motif). I also finally got back to my DMC spiral project, my second "stitch all the DMC colors in numerical order" piece. (
Here's the first one.
)
[
pictures of both pieces
]
While I like winter more than summer, I do miss the natural light when I'm stitching.
[
After stitching half the umbrella I realized how much more awesome it would have been stitched in black with rainbow rain drops, but oh well.
]


See how awesome? My brain is so dumb sometimes.
I have stitched this fairly generic umbrella. Now I've got loads of new patterns completed, but just haven't been able to start stitching. This week has been a bit hellish.
Monstrous Regiment
by Terry Pratchett.
I took forever with this piece, as it's just been a long, tiring week with other obligations. I've been following politics too closely for my own mental health, so I chose this quote. It's from the book
I knit a test slipper with this
pattern for non-felted knit slippers
. It's a free pattern that either wasn't written clearly or wasn't translated well, so there are a few off numbers and no mention of turning your work for the short rows.
[
more about the pattern, plus pictures
]
The first one I did was knit in the gauge mentioned in the pattern but was way too small for me (I have size 8 1/2 feet). I knit the one pictured with larger needles (6.5 mm versus 5.5). It's a bit loose on me but stays on just fine. I can't wear anything remotely tight on my feet, so it's good, but I think it will fit my mom well too (she has size 10 feet) and just be a normal tightness on her. The yarn I used is chunky but not quite bulky weight.

These knit up SO quickly. I finished up that one in a couple of hours last night.


I also finished up a new cross-stitch pattern for my Etsy shop.
I'd say I've been slacking on posting, but it's really that I just haven't had much time or energy for crafting. Between the middle of September and beginning of October I went out of town three times.
Bugs Bunny and Porky Pig!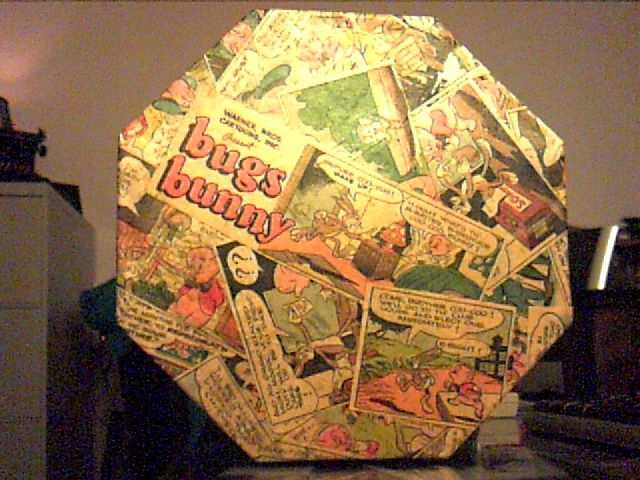 And just to prove that I'm not entirely insane: the comic book was a very old, extremely used copy. The cover was already gone and the staples edge was worn and torn. I will confess some momentary pangs of guilt in destroying a compete story that could still be read, but since I would never read it again and no one would ever buy it to read it, I got over it.
Mind, I didn't cut up one of the tattered cowboy comics I had. Or any of the Donald Duck ones. I may work up to those.
I decided to be a bit crafty today, so I decorated my receipts box. It was just a brown box that we toss all our receipts in, but I thought I'd fancy it up a bit. So I took some old comics I had laying around and gussied it up. Nothing fancy, just panels from the comic books and some mod podge. Still, I love how it looks.
Current Location:

Home

Current Mood:

accomplished

Current Music:

The Mentalist, 18-5-4
Here's the knit ball from the strips I posted earlier. It's not as stiff as my first one, but that's okay.
[
ball and hat
]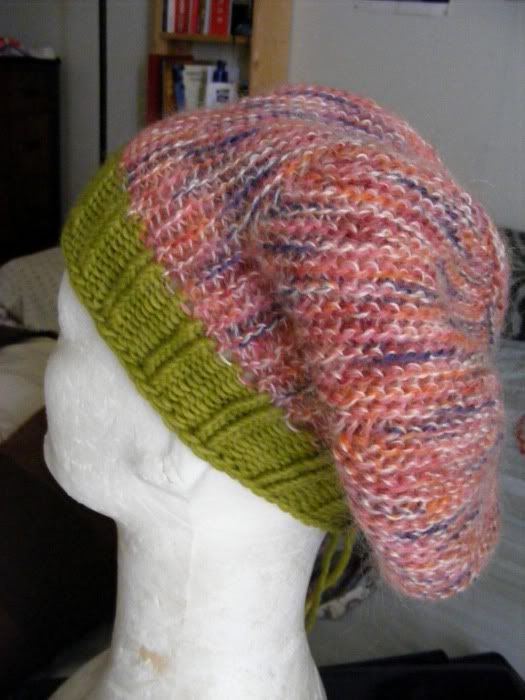 Somehow I never took in-progress pictures of this hat. It's for an artist friend who wanted something silly and colorful. I think I'm going to add a pompom to it, even though they are my least favorite thing to make.
All done!
a free pattern on Ravelry
. The pattern makes it sound a bit intimidating, but it's honestly really easy and the strips knit up SO quickly.
I didn't use the other strips I knit as I didn't have any similar weight yarns that really matched. I'm hoping to make a ball using just that yarn though.
[
knit ball and progress on cross-stitch
]


The assemblage was simple as well, so definitely give it a try. I'll be making a few more as gifts for my niece and nephew.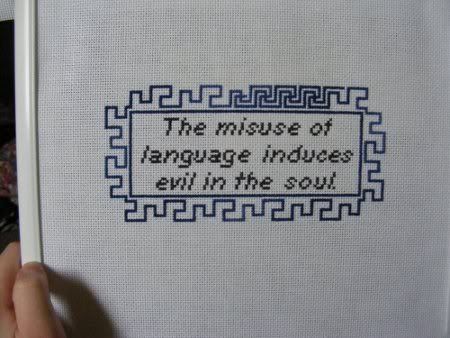 I'm about halfway done with this piece now, and going back to working on it this evening. It's been a slight headache getting the variegated thread to match up, but it's the type of thing my (admittedly mild) OCD really latches onto.
I just finished this knit ball, from